Episode 2 in the books and I am still loving this season.  The producers seem to be pulling back the veil a bit (except for some suspect editing during the Hannah B. and Peter convo, discussed below), the ladies are bringing the drama, and Peter is appropriately bought into the process.  It's just been a fun time, and I'm excited to see where it goes.
Let's get to it!
Hannah B. and Peter
We pick up where we left off last week, which is exactly where I wanted to be.  Hannah B. and Peter are discussing their lingering feelings.  Hannah B. has admitted she wonders whether she made a mistake sending Peter home, and explains why she hasn't reached out until now.  Here's where the editing starts to get funky.  Peter asks Hannah to join the house, and her immediate response is, "I mean…" and then a soundbite of her saying "maybe" that we don't see coming from her mouth (prime example of frankenbiting).  We then start getting some strange footage where it seems like the camera people are out of the room and zooming in:
Hannah says, "selfishly, let's just get on a plane!" And then the conversation seems highly edited from that point out.  Up until then, the two of them had been super candid and honest with each other.  It's the type of conversation you know has happened behind closed doors, but we've never seen it before on our screens, and it was incredibly compelling.  Hannah expressed doubt, Peter questioned whether she felt this way because she was focusing on the "what ifs" and not her true emotions, and both of them were stuck.  Hannah was in the middle of filming DWTS, and Peter had just started his journey as the Bachelor.  He asked if Hannah would come back to the house, but we all know Hannah would never do that.  All she could offer Peter was for him to break his contract, walk away from a house full of women vying for his attention, and take a chance on a maybe.
I have a feeling that after Hannah made the suggestion that they hightail it out of there, the two of them continued to have a very candid discussion about what that would look like.  We'll see if either of them speak to the media about what we weren't shown, but otherwise it's impossible to know.  All we know is that after that conversation (and likely, some producer intervention telling Peter he absolutely could not walk away from his whole season), Peter told Hannah he couldn't do it and the two of them said their goodbyes.
Takeaway on Hannah: I think the producers put her up to appearing on the show.  I think she has to own her actions once she got to the show, and I wish for both their sake she had kept what she was feeling to herself, because she wasn't offering Peter a real choice.  She was never going to join his season, and she had to know he couldn't leave his.  It wasn't fair to ask him to do that, so it felt like an eruption of emotion without a well-thought out plan.  I feel for the woman but this helped no one.  I hope they both take some space from this.  If they have true feelings for each other they will find their way back together, but I think this is most likely an exercise in regret rather than true love.
Notably, we were missing any ITMs ("in the moment" interviews that are one-on-one) from either Hannah or Peter.  This is weird.  Last episode we had a ton of Hannah B. one-on-ones where she was crying to her producer and talking about her feelings.  And I don't really understand the decision to not interview Peter about that interaction (or, more likely, to not SHOW any interviews with Peter) unless he was saying things that don't fit with the narrative of the story arc this season.  Based on what we've been shown, I do not think Hannah B. and Peter get back together.  But we shall see!  This season is a big question mark, which makes it so fun to watch!
Champagnegate
This was some good old-fashioned producer-driven fun, wasn't it?  Kelsey, who seemed to have been drinking some champagne already, set aside a bottle of champagne she'd been saving for a year.  Hannah Ann led Peter straight to it, seemingly not knowing it was Kelsey's, and opened it right up.  Cue Kelsey's total meltdown.
For context, Kelsey seemed to be keyed up in general during this cocktail party.  She accused Mykenna of "stealing" Peter when Mykenna spent some one-on-one time with him (at least from what we saw, Mykenna did not appear to take Peter from anyone).  So Kelsey was primed for an altercation.
I asked my Instagram whether they thought Hannah Ann knew the champagne was Kelsey's, and the response was mixed:
I think Hannah Ann was set up.  As she explained after the incident, there were two champagne areas and I think producers likely led her to the wrong one.  Hannah Ann's reactions (and subsequent decision to tattle to Peter and accuse Kelsey of bullying) are her own, but I do believe her on this point.
I do not, however, think Kelsey was bullying Hannah Ann, and it turns out, neither do you:
Honestly, both women take the loss here.  Kelsey overreacted about the champagne, and continued to hold a grudge into the next day and night, which seems unnecessary.  At first I thought Hannah Ann handled the altercation well.  She could have emoted a bit more, and focused on apologizing right away, but she stayed calm and moved away from the situation.  I didn't think she needed to continue the drama by bringing it up with Peter, especially after she "won" that group date.
And let's talk about that group date, shall we?
Victoria F. vs. Hannah Ann
This was a doozy.  Victoria F. was all over the place and it was really hard for me to follow.  If you recall, she botched a sexual joke right out of the limo, and seemed to get real awkward, real fast.
Since then, she has made it a point to tell the camera (and us) how out of her element she is, how this is uncomfortable for her, and how she's not like the other girls.  This episode, she's tapped to participate in one of the better dates this franchise has to offer – a chance to win a whole wardrobe sponsored by Revolve.  And all you have to do is put together an outfit of your choosing and strut down the runway.  (Remember when contestants had to get almost naked in years past?  This is way better.)   Also, Victoria F. is a model:
So I find it a little hard to believe that this date got her spinning out so badly, but that's what she says.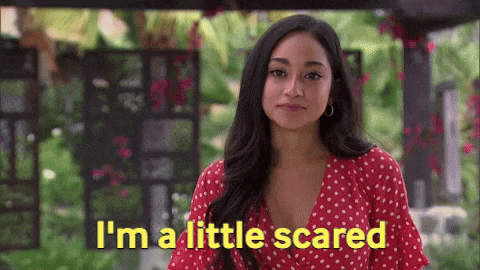 She ping pongs between scared, crying, giddiness, etc. on this date.  It was hard to follow.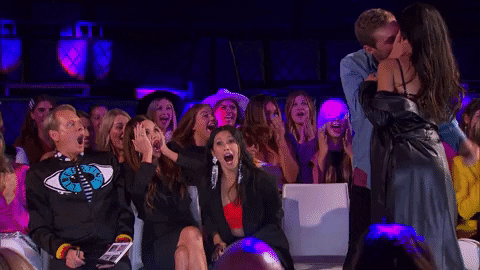 I'm not totally sure what to make of her yet, and it looks like you guys are just as stymied:
I do believe that one person can authentically feel all these emotions in a short span of time, especially in a stressful situation like dating on national television.  So I'm not saying that she's putting on an act, but she does seem hard to follow.  She has another breakdown to Peter in the evening portion of the date, and pulls a card that many a contestant has used in the past by threatening to leave.  She's threatened to leave a few times already, and the previews show her doing it again, so we'll see whether Peter tires of it in the future, but for now he gives her the assurances she needs to hear, and all seems well.  I think she'll be around for a bit.
Here's who I think Peter is most interested in at this point.
Madison:  We didn't see a ton of her this episode but when we did see her it was meaningful.  Peter gave her a framed picture of their date and made a point to tell her how much he liked her.  I think he's really feeling it with her.
Sydney: We finally got to see some of Sydney!  She got the group date rose, and Peter really seemed to connect with her.  We also saw some good footage in the preview of the two of them.  I think he really appreciated that she was a straight-shooter and down to earth.
Hannah Ann: Like her or not, it's pretty clear Peter does.  We'll see how she weathers the Kelsey storm, but I have a feeling Hannah Ann is going to come out the winner there.  The girls is confident, I'll give her that!

Victoria F. (possibly): Jury is still out here, I'm not ready to put her at the very top, but that runway walk alone won her some points in Peter's eyes.  Hopefully she gets out of her own head!  But I think we're going to get some more gems from her in the mean time.
Peter's favorites are not always my favorites, so here's my list of the women I'm enjoying watching the most.
Tammy.  Tammy is a breath of fresh air!  She's funny, she's involved but not too involved, and she seems super normal.  Sidenote: there was a voiceover of Tammy seemingly badmouthing Kelsey right after she consoled Kelsey, and I have to think that was editing.  I think Tammy said those words, but likely not about Kelsey (or not about that particular incident).  Always be on alert when you hear a voiceover but don't see the words coming out of the contestant's mouth! 
Lexi:  I think she's a dark horse!  I loved how Peter remembered her (but joked that he didn't), and I loved her confidence on the group date.  She rocked the runway.  I also loved her response to Kelsey.
Natasha:  Natasha was great this episode.  She was up front with Peter about how she felt when he spent all his time with Hannah B., and the outtake of her talking with Janice Dickinson was gold.  She's also the only contestant over 30, so you know I'm rooting for her!
Kelley:  Where was my girl Kelley this episode??  After such a strong start last week, we barely saw her.  I think she'll reappear on our screens next week though, and when she does I'm sure she'll regain her place in Peter's top 4.
And I'll leave you with the best part of the episode: